Get In Touch
Canmore Raft Tours
The Raft Shack (opening June 1st)
829 8th (Main) Street
Canmore, AB
Snail Mail
PO Box 8015
Canmore Alberta, T1W 2T8
E-Mail & Chat

Contact Us
Use the chat window below to chat with us. If we are not online, complete the form to send us an e-mail and we will respond as quickly as possible!
The Raft Shack
Walking around Canmore? Stop by the Raft Shack and say hi!
Meeting Point and Put-in
All tours will meet at the public boat launch on the Bow River. This is a short, 5-minute walk from downtown Canmore. We recommend leaving your vehicle in a public parking lot and enjoying the stroll down to the river (where parking is limited).
Work With Us
Interested in being a part of the team? Let's connect!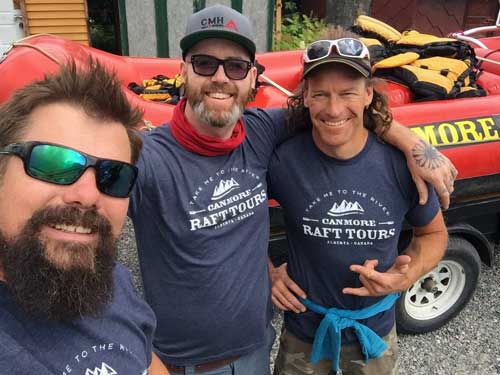 Apply Now
To apply for a position with Canmore Raft Tours please e-mail your resume to
This email address is being protected from spambots. You need JavaScript enabled to view it.
---
GUIDE/OARS PERSON/VAN DRIVERS POSITIONS

A fresh faced novice river runner or seasoned professional, it doesn't really matter, there are guiding opportunities at Canadian Rivers Wild Inc. (CRW) that can open up a whole new world of adventure. From the rush of spring snow-melt on rivers throughout the West to relaxing scenic floats on pristine mountain rivers, our guides lead the way into some of the most magnificent landscapes on earth. Since 2016, CRW has set the first-class standard for adventure tourism and our ongoing pursuit of excellence is based on providing superior service to our guests.
Guiding for CRW is not an easy job. It is the rare, dynamic individual who can really do it well. CRW guides combine a passion for the outdoors with compassion for our guests, a desire to learn with the talent to teach and a flexible attitude with a steadfast commitment to conservation. CRW guides deliver the highest levels of service because we love what we do, we love the undeniably special places we visit and we love having a positive impact on the lives of others.
REQUIREMENTS FOR ALL POSITIONS:
Currently, we can only accept applicants who can legally work in Canada.
New applicants must be available to work during the Canadian Rockies summer. Opportunities for guiding our Multi-Night trips are reserved for returning employees.
GUIDE DUTIES AND RESPONSIBILITIES:
Safely navigate oar/paddle rafts
Seek to provide our guests with the best outdoor experience of their lives
Present facts about the region's natural and human history.
Provide a positive role model for children and facilitate kid-friendly activities
Care for CRW's equipment, Vans and work areas
Lead interpretive walks.
Adhere to the Principles of Leave No Trace at all times
Be a steward of the natural areas in which we travel
GUIDE QUALIFICATIONS:
A minimum of an 80hr Wilderness First Aid certification is required for guiding multi-day trips
A minimum of a 40hr Wilderness First Aid certification is required for guiding one day trips
A minimum of a Standard First Aid Certificate and CPR C for 1 hour trips
Customer service experience and superb people skills
Class 4 driver's licence
Basic Level Interpretive Guides Association Certificate
Swift Water Rescue Certificate
Background in natural history or leading groups, preferred
Experience or willingness to work with young children and adolescents
Ability to make Risk Management-minded decisions and minimize risk in a wilderness setting
The ability to keep a positive attitude and deal with challenge in a dynamic, wild environment
Tolerance of potential uncertainty and adversity
Capable of working long hours
Physically fit
Team player
Excellent communication skills
Fluent in English (a second language is an asset)
Smoking not permitted around company equipment and clients
Creative approach to problem solving
Basic computer knowledge
WORKING CONDITIONS
Physical Demands
Constant strain on the body while guiding rafts of up to 11 guests
Long periods of standing on rocks or in glacial water
Heavy lifting of rafts and other equipment
Guiding up to 6 trips daily
Long work days (up to 12 hours) and work weeks
Environmental Conditions
The position is outside and exposed to the ever changing mountain weather - we work rain, snow or shine, hot or cold
Summer day light is long and the sun can be relentless
We can experience long periods of smoke during the fire season
COMPENSATION
Hourly wages (based on 40 hours per week)
$18.00 – $24.00 per hour depending on experience. Gratuities are common
Merit increases, dependent on individual and company performance, considered on an annual basis
Benefits:
Discounts on CRW and Partner trips
Outdoor environment
Fun and Outgoing work Atmosphere
Discounted prices with NRS, AIRE, Outdoor Research, Yeti, Engel and others (Northwest River Supplies)
SEASONALITY
This position is seasonal; approximately June 1st – September 15 (with busy season starting mid-June to September long weekend)
PROBATIONARY PERIOD
The first 30 days of employment are considered probationary.
KIOSK AGENT (Client Services Assistant)
Job Description
The Client Services Assistant works in collaboration with the Operations Manager, River Manager, Trip Leaders and Van Drivers to process reservations. This individual is the first point of contact for most clients and must ensure high levels of customer service, organization and efficiency.
Schedule
The Client Services Assistant can expect to work a 5 day work schedule during the summer (peak) season (from mid-June to beginning of September) and will require working weekends, such as Thursday – Monday, or similar. The peak season schedule is subject to change, as needed.
SCOPE
The Client Services Assistant reports to the Operations Manager and works closely with the River Manager to provide complete reservation details to Trip Leaders, Van Drivers and River Staff and to respond as soon as possible to requests from the river for additional information.
The position requires familiarity with trips offered in all areas in order to effectively answer general questions about any CWR trip.
Additional duties may be added.
QUALIFICATIONS AND EDUCATION REQUIREMENTS
Continuously develop an in-depth knowledge of CRW trips, policies and procedures and reservation system. Participate in researching the adventure tourism industry and our competition; customer service techniques; written and verbal communication; personal organization
Actively participate in departmental and company discussions to improve internal processes and build a high-performing sales and client services team
Function as the point person for other reservations staff for questions concerning designated area and keep staff apprised of operational updates
Distribute reservation-related confirmation information and invoicing for designated area, including prompt and complete payments for reservations prior to departure. Generate and deliver customized final information for each departure
Collect all client information (forms) and complete or delegate the accurate entry of that information into reservations system, including the correction of online entries as required
Run weekly reports for late payments, registrations forms, minimum numbers, etc. and follow up accordingly
Follow up on all reservations and questions (from phone calls, e-mails, trip evaluations, etc.) to insure guests choose CRW for their next adventure travel experience. Promptly follow up with requests for information from Management, Marketing, Accounting, and Operations
Process cancellations and transfers and negotiate fees as necessary
Recommend and develop responses to guest concerns in a prompt and courteous manner in accordance with CRW policies and procedures, in conjunction with other Management and Operations
Provide Operations with additional information regarding trips as necessary in addition to remote reports, especially in the area of special client needs and custom arrangements, maintaining an open dialog on pending issues
Coordinate with the River Managers to open or close available trips to maintain a smooth flow of operations
Develop and maintain a close relationship with outside vendors/affiliates & managing agencies
Negotiate, update or maintain vendor/affiliate contacts and other arrangements as needed
Communicate with vendors/affiliates to supply all CRW booking data and maintain updated availability for potential bookings
Generate and process payments to vendors/affiliates in an accurate and timely manner
Maintain and update trip-related documents seasonally and on an as-needed basis
New program and custom itinerary development for new trips, extensions and private trips when appropriate, following through from implementation to the final documents
Active phone selling by being available to respond to incoming calls, e-mails and return all messages from prospective and current guests, travel agents and co-workers in a courteous, professional and timely manner
Weekend work hours as required
Other projects and duties as necessary or assigned.
PERFORMANCE PROFILE
Ability to ask the right questions to discover guests' needs
Exceptional listening skills
Excellent written communication skills
Highly organized
Proficient basic math skills, with a focus on detail and accuracy
Proactive work demeanor
Effective time management; proficient at multitasking
A team player and willingness to be "part of the solution"
WORKING CONDITIONS
Physical Demands

Long hours sitting/standing and using office equipment and computers, which can cause muscle strain
Some lifting of supplies and materials on an as-needed basis

Environmental Conditions

The CRW "Raft Shack" is an open sided outdoor space, exposed to the ever changing mountain weather. It's busy with both walk-up and call-in bookings where interruptions are frequent
Scheduled and unscheduled meetings with coworkers and managers are customary
COMPENSATION
Hourly wages (based on 40 hours per week)
$18.00 per hour (can be negotiable depending on experience)
Merit increases, dependent on individual and company performance, considered on an annual basis
Benefits:
Discounts on CRW and Partner trips
Outdoor environment
Fun and Outgoing work atmosphere
SEASONALITY
This position is seasonal; approximately June 15 – September 15
PROBATIONARY PERIOD
The first 30 days of employment are considered probationary.